GREENSBORO, N.C. (April 26, 2021) – The Downtown Greenway, a collaborative economic development project between the City of Greensboro and Action Greensboro, has planned FREE fitness classes on Morehead Park on the Downtown Greenway located at 475 Spring Garden Street. Classes will be held every Tuesday from 6:00-7:00 pm beginning May 4 and running each Tuesday from May through September.
This is the 9th year that the Downtown Greenway has partnered with the Kathleen Price Bryan Family YMCA to offer free fitness classes to the public. Classes vary each week from Cardio Plus, Yogalates, Circuit Training, HIIT, Old School Aerobics and other classes that are designed for out-doors and for getting active—no prior experience required. Certified fitness instructors and staff are provided by the Bryan YMCA for each class. Class cancellations due to weather will be posted on Bryan YMCA and Downtown Greenway social media by 5pm on the day of the class. Social distancing protocols will be followed.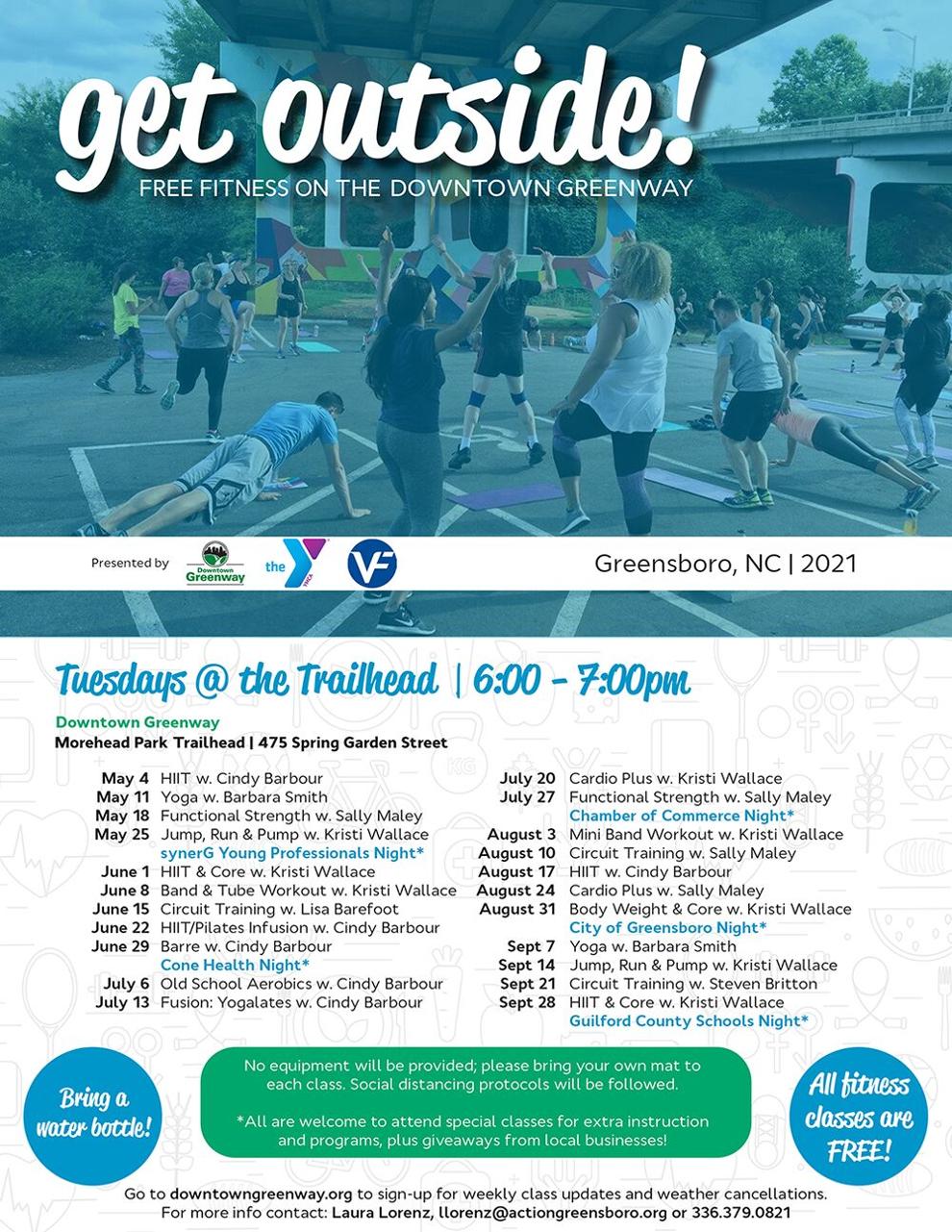 New this year: The last class of each month is geared towards various groups—but all special classes are open to anyone! Giveaways and additional programs from local businesses and will be planned.
May 25– synerG Young Professionals Night: Calling all young professionals! Young professional and fitness instructor Kristi Wallace will help us 'Jump, Run, & Pump' on the Downtown Greenway!
June 29- Cone Health Employee Night: Women Inspiring Women, LAUNCH Dive-In Network groups, & Cone Health Wellness Dept. encourage all Cone Health employees to come out for special activities including the fitness class.
July 27– Chamber of Commerce Member Night: Chamber Members are invited to get fit and find out what other chamber members are doing in Greensboro!
August 31– City of Greensboro Employee Night: City employees will get points for attending the fitness class! Grab you co-workers and join us for Body Weight & Core!
September 28– Guilford County Schools Night: all GCS faculty and staff encouraged to come out and get active!
The Downtown Greenway is a planned four-mile, urban, paved trail that will encircle downtown Greensboro. Upon completion in 2020, features will include landscaping and lighting, benches, bicycle racks, drinking fountains, trash and recycling receptacles, and public art commissions. For more information on the fitness classes, visit http://downtowngreenway.org/events
-more-
About Downtown Greenway
The Downtown Greenway, a collaborative project of the City of Greensboro and Action Greensboro, is a planned 4 mile walking and biking trail that will encourage economic development, increase the tax base for the city, and will improve quality of life for its citizens. This urban loop around the center city of downtown Greensboro will enhance the urban landscape with a green space that will promote fitness, connectedness and well-being for our residents and visitors in an aesthetically pleasing environment. The loop itself provides a unique opportunity for Greensboro to have the only one of its kind in the state and one of the few in the country. With its emphasis on public art, the Greenway will tell stories and engage users of the trail in a unique and authentic way. In addition, with the connections to the extensive existing and planned trails systems in the city and the county, this loop will connect residents from all parts of the community and beyond.
About the YMCA of Greensboro
The YMCA of Greensboro was founded in 1889 with a mission to put Judeo-Christian principles into practice through programs that build a healthy spirit, mind and body for all. Through its eight branches and YMCA Camp Weaver, the YMCA of Greensboro is strengthening the foundations of our community by offering a warm and friendly environment where people of all ages, races, faiths, beliefs, and physical and financial abilities participate in worthwhile programs and meaningful experiences that make a positive difference in their lives. For more information on the YMCA of Greensboro and our locations, visit www.ymcagreensboro.org.
About Action Greensboro
Action Greensboro, together with the Chamber of Commerce, serves as the city's primary economic and community development group. Formed in 2001, Action Greensboro is comprised of six local charitable foundations. In collaboration with business, higher education, and municipal government, Action Greensboro works to strengthen Greensboro's economy and ensure the continuation of its excellent quality of life.
# # #