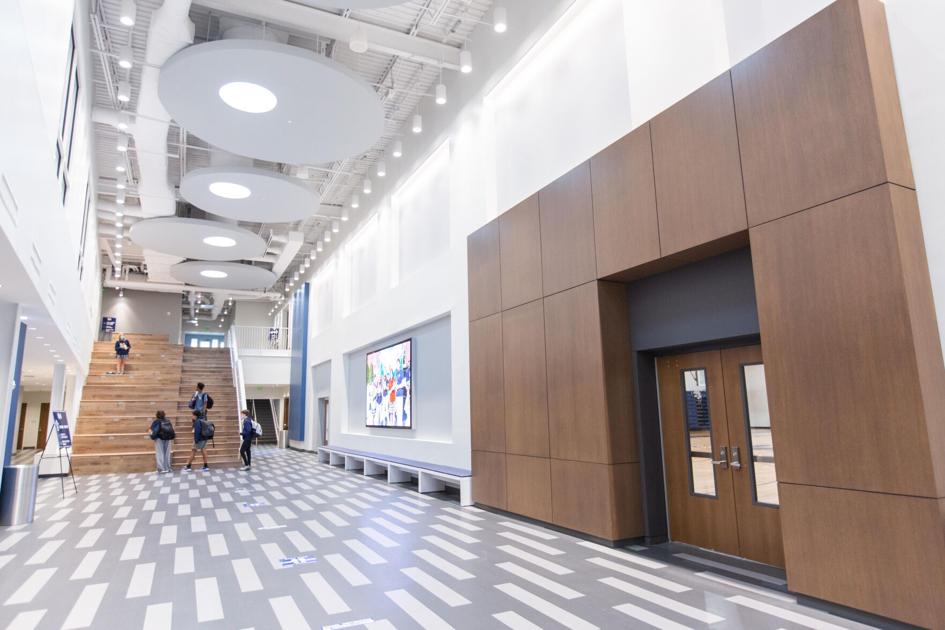 Franklin Road Academy recently announced the opening of its new Crockett and Tansil Fitness Center as part of an ongoing expansion of the FRA athletic center.
In addition to the new 4,000-square-foot, state-of-the-art fitness center, this space contains women's and men's home and visitor locker rooms, a new digital alumni hall of fame, athletic offices and a training room. This is part of a larger expansion that includes a new wrestling facility, team film rooms, dance/yoga studio, coach's locker rooms and a renovation to the existing gymnasium.
The 15,500-square-foot addition follows the opening of the 38,400-square-foot Weicker Center for Student Life in August of 2019 and the 12,500-square-foot Scarlett Family Chapel in May of 2018.
There are multiple windows in the hall of fame lobby that overlook the upper school gymnasium and create a space large enough to entertain small gatherings of students, parents and alumni. The dance and wellness space, new wrestling room and team video room located in the Weicker Center for Student Life are next to the fitness center, consolidating all of FRA's athletic spaces and creating a new athletic center adjacent to the outdoor athletic fields.
While more than 80% of FRA upper school students participate in at least one sport each year and a number of prominent alumni are currently competing at the collegiate level, the new Crockett and Tansil Fitness Center was created to serve all of FRA's students, to be used for physical education and ultimately to instill a lifelong love of physical fitness and healthy living.
"There is a new energy in and around the weight room," Bill Whittemore, varsity head football coach, said. "Our students love coming into this space and utilizing all it has to offer. This space will help our teams with their confidence and mental toughness. They are putting in the work to make themselves bigger, faster and stronger, all of which it takes to compete at a high level."
One of the biggest impacts of this space is that it creates more community. In addition to attracting the best coaches, teachers and students, it creates a place for them to come together and feel a strong sense of belonging beyond academics.
The new athletic center connects generations of students, families, alumni and athletes as they move on throughout their lives. FRA alumnus and parent of alumni, James Kennon '82, was the principal architect on the project.
FRA currently has 35 alumni athletes competing at the collegiate level including in the Ivy League, SEC, Pac-12, AAC and the Big 12 conferences.