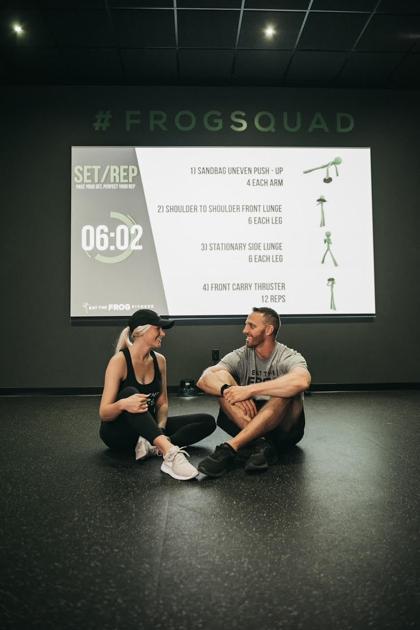 COVID-19 restrictions have meant a huge rise in virtual in-home workout options, while leaving physical gyms in limbo.
Manhattan's newest fitness studio, Eat the Frog Fitness, 1316 Westloop Place, bucked the trend and is betting on in-person methods. It opened in March with 325 members on the roster. Owned by husband-and-wife team Ross Metheny, 30, and Lauren (Henricks) Metheny, 28, Eat the Frog is part of a rapidly growing national franchise network meant to be different from most gyms. There are no traditional weights, no mirrors, and lighting is dim to limit distractions and minimize the intimidation factor, yet trainers keep energy high during small group training sessions.
The studio goes to great lengths to maintain a safe environment, Ross Metheny said.
"There is a power in removing yourself from your environment to go work out," he said. "It adds a level of motivation and accountability that you don't get at home. Our members are not only getting a scientific workout based on their fitness levels, but they're also building relationships, making friendships and improving mental wellness as well."
The admittedly odd "Eat the Frog" name comes from a Mark Twain quote: "Eat a live frog first thing every morning and nothing worse will happen to you the rest of the day."
Fitness is the "frog" for many people and, if tackled first thing in the day, will lead to physical and mental health benefits in all facets of life, said company co-founder and 2008 Olympic decathlon gold medalist Bryan Clay.
"Elite athletes don't train at the highest intensity level every day," Clay said. "They train smart. Eat the Frog brings smart training to the people with authentic, science-based classes that are focused on quality of life first and foremost, whether you're an Olympic athlete or someone who wants to lose 15 pounds, look good in a swimsuit or get off the couch. It's group fitness with personal training."
Clay and co-founder Joe Culver have opened more than 20 locations since launching the company in 2017. Manhattan is the first college town to have an Eat the Frog studio. Clay and Culver will be in Manhattan for a grand opening celebration and ribbon cutting along with hall-of-fame coach Bill Snyder and the Manhattan Chamber of Commerce beginning at 11 a.m. Saturday in Westloop.
Unlike traditional gyms that offer popular High Intensity Interval Training (HIIT) where workouts require pushing physical limits for the duration of each session, Eat the Frog Fitness classes offer Variable Intensity Performance (VIP) training based on maintaining individual heart rate levels monitored on a screen. Regular fitness assessments are offered every day with trainer-guided and virtual studio classes that accommodate all fitness levels. All of the workouts are focused on functional training with spin bicycles, rowing machines, NuBell weights, TRX straps with handles, and designer fitness sandbags used as tools to mimic every day movements through low-impact motions that are easy on the joints.
The idea of bringing Eat the Frog Fitness to Manhattan was an ambition for the Methenys, who met while working for the K-State football program during the 2015-16 season. Lauren Metheny, a Manhattan native and K-State graduate in communications studies, served as an assistant in football operations. Ross Metheny, who grew up in Winchester, Va., and played quarterback for the University of Virginia and University of South Alabama, worked as a graduate assistant under defensive coordinator Tom Hayes.
The couple married in 2017. They were living in an Atlanta suburb when Lauren got a job as a trainer at an Eat the Frog location.
After having a son, Jaxson, now 9 months old, the couple decided to move back to Manhattan to open their own Eat the Frog franchise. They fully remodeled the space and successfully opened the studio last month.
"This community is amazing," Mrs. Metheny said. "We had family here, we met here, we had roots here, and we wanted to raise our son here. It's our personal mission to give back to our community through the platform of fitness."
Eat the Frog employs five trainers. Trainer-guided and virtual studio classes are offered 24 hours a day. Class schedules and membership details are available through Eat the Frog Manhattan's website.